Happy almost Halloween! Today, I have another Spooky makeup tutorial. This time inspired by Widowmaker from Overwatch.  I used a variety of different eyeshadow to get the shades I was looking for. You don't have to use these exact ones, I am showing you the ones I used to give an idea of the colors.
I had to have some fun though and give myself yellow/green eyes like her and put my hair in a high pony. I also wore a headscarf as a nod to her headpiece. Instead of making the skin blue, I went with super pale and highlighted heavily with blue and purple. I also found the cutest spider web lashes and spider earrings so I had to get them.
Here are a few pictures of Widowmaker for reference. I did want the look to be literal but more inspired by her.
Let's get started.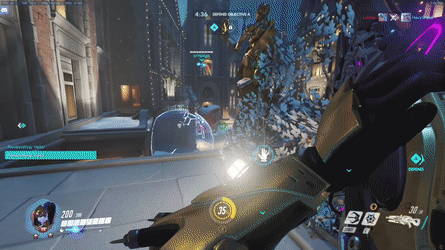 First thing I wanted to do was go for some bold blackish brows with a hint of purple.  I started the eyeshadow look out after doing my brows and priming my eyes with concealer and setting over the lid to the brow with a translucent setting powder.
For the first few eyeshadows I used an oldie but a goodie from Kat Von D. The Metal Matte Palette. You can easily find shades very similar like these. I am using what I have on hand and I wanted to revisit an older palette.
I went in with Silk which is a dusty pink first and used this as a transition shade, really blowing this color out. I am also implementing the good ol' tape method to get a clean line. I am using medical tape that I have stuck to the back of my hand to get rid of some of the stickiness. I find using regular sticky tape irritates my skin but the medical grade is my more gentle and easy on the skin.
Next, I went in with Ribbon, a dusty mid toned purple closer to the crease with a tapered blending brush then blended out with Silk.
While these shades are really pretty together, they just weren't vibrant enough, however, needed as a base in my opinion. I wanted to have some smoky elements, not just full-on color. To start adding in some punch, I hoped over to the Desert Dusk Palette from Huda Beauty.
I went in with the shade Amethyst.
Amethyst went in where I laid down Ribbon and over into the crease blown out into the dusty pink.
Now for the really bright shades on the lid, I used the Huda Beauty Electric Palette.
I had to use this shade.
On a flat brush, I packed on this vibrantly neon light purple all over the lid.
For depth, I took the deep matte blue on a pencil brush, just on the outer V.
The blue turns purple over the lid shade. I blended the blue into the outer corner and pulled it out into a cat-eye shape and on to the lid lightly. This shade is basically a transition for the black eyeshadow I will add later.
To soften the blue into the purple and give the lid some shine I went in with the metallic purple on the edge of the blue and neon purple.
This creates a nice gradient effect.
And now for the black to bring in that dark widowmaker vibe. I just used a matte black on a pencil brush and winged it out in the same cat eye shape and blending it over onto the lid slightly and into the crease softly for definition. I am really pulling these eyeshadows out toward the tail of the brow.
I really wanted to add in a shimmery duo chrome and this one called Twilight is perfect. It's a purple with blue shift.
So what I did was on a small detail brush I painted on Nyx Glitter Primer on the inner corner and pulled it up around the lid, then patted Twilight over top.  I also went ahead and added some liquid liner to the upper lash line because I will actually be using false lashes for once.
And now for the big reveal of pulling the tape off and cleaning up the fallout. So satisfying.
Look at that line!
After I finished my face makeup, for the most part, it was time for the lower lash line. I lined the waterline with a black liner which is also something I don't do often but it works with this look. I blended the liner out with black eyeshadow and connected the lower lashline to the upper.
Just below the black, I blended the Amethyst shade from the Huda Beauty Desert Dusk. I kept the lower lash line tight and not super blended out. I also intensified ant shades that were getting lost.
On the inner corner, I took a combination of Purple Horse from ABH Moonchild Glow Kit and Nyx Duo-Chromatic Illuminating Powder in Lavender Steel. which I also used on my face later.
I finished the eyes off with a pair of spider web false lashes from Ardell. These are oddly easy to work with. They are very pliable and hold the shape you put them in. They also reuse pretty well. This is the second time I am using them. Not super comfy, but for pictures or a party they are great.
The Finished Look.
Now, I couldn't resist giving the final looks some supernatural edits to the iris to look like Widowmaker.
For lips, I went with an ultra glossy purple lip using Nyx Liquid Suede in Subversive Socialite topped with tons of gloss. On the skin, I kept it pale, contoured with a cool taupe shade and highlighted with a purple and blue.
The rest of the look was completed with a high pony and purple hair, which I just so happen to have. LOL. I added some cute spider earrings and a large headscarf as a nod to her headpiece.  I even matched my nails.
What I like about this look is that you can wear this eye look without all the lashes and accessories and have just a cool eye look. I have wanted to do a widowmaker look for a while and I found all these cute spider things so it had to happen.
Would you ya'll like more Overwatch or video game inspired looks? Let me know below. I love interpreting artwork and characters into looks that aren't so nail on the head but just glam looks that are inspired. I feel so rambly today. Like I can't find my words. I'm a little distracted but I wanted to get this up before Halloween.

Happy Halloween!
Instagram | Twitter | Facebook| Bloglovin|Pinterest| Tumblr
 Check out my Top Makeup Product Picks on Amazon.