What up guys? Sorry about missing last weeks posts. I was just having having an off week with content. Nothing was coming out right. Then of course lady times happened with a topping of keto flu so I was just down for the count after that.
Speaking of crappy things and pain before I get into makeup. I got a flake of waterproof mascara caught under my eyelid. I honestly thought I was going to have to go to the ER. It was like a nail clawing my eyeball. I had to pull my lid up as much as possible and get a q-tip after it. I finally got it. A teeny tiny little bit of mascara. I thought it was glitter at first and was in a panic. All is better now but I do have a scar on my eyeball from this happening before a couple of years ago. Point of the story. I don't fucks with waterproof mascara no more. Nope nope nope. Everything happens to my poor left eye too. It's been infected, it's been scratched twice now, and it's partially paralyzed. I mean, can it catch a break.
And speaking of eyes, here is a better look at my new glasses.
I was having a heck of time trying to get a pic without a glare.
Yeah, glasses and false lashes aren't too compatible, at least the ones I like.
Anyway, on to the makeup.
If you have been around here a while, you know my love of red eyeshadow, I am working on a post showing all my favorites. In this look, I used the Morphe Boss Mood Palette and Kat Von D Everlasting Liquid Lipstick in Vampira as liner and on the lips. I'm kind of obsessed with this look.
I am loving the Unfold app for creating IG stories btw.
Next 👏 Look 👏
I actually did this one a while ago, just never got around to posting it. I have the Anastasia Beverly Hills Norvina Palette on the eyes and Pat McGrath Matte Lip Trance in Flesh 3 on the lips.
Who picked up the new Rivera Palette. I'm interested in it and I still want to grab Soft Glam.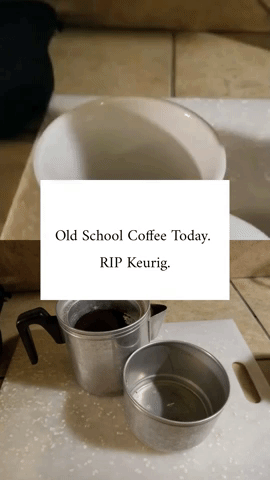 It was a sad day in the Bankester Beehive. My Keurig bit the dust. So I dug out my Grandma's old coffee maker. I keep this thing around and sometimes just use it out of nostalgia. However, I am impatient and want fancy coffee so…
I got my claws on this little beauty. It's the Ninja Coffee Bar. This thing is badass. I am beyond happy with it and I got her on sale at Target. I can make my lattes with it so it will pay for itself by not going to Starbucks and CC's all time. That's how I am justifying it. I just need Starbucks Sugar Free Mocha, all I can find is Vanilla which is good but Mocha is life.
I mean, look at the bougie ass cup of coffee.
While I was not creating any great content, I did organize and declutter my makeup last week. I am loving my new system at the moment. My niece is stocked up on play makeup now too. BTW, that goal didn't happen on that day. I just napped the whole day. Was I depression napping? Maybe. I think it was PMS. I get extremely tired during my period. TMI TIME! I just started back on the pill as when I take it, I don't have as bad of symptoms. While we are talking about periods. I bought some new pads from a brand called Cora at Target. Those are hands down the best, most comfy pads I have ever used. They cost a tad more but they are a healthier alternative and donate to girls in need.
This is pretty much how me and Pumpkin spent last week. In bed with grand plans of being productive. This week though, I have been productive and am back to it.
Oh yeah, we did go have breakfast at Cracker Barrel and I found this amazing clock. I have always wanted one of these starburst clocks.
That's all for today. Here's hoping Norvina adds me to that PR list. LOL. I have a review coming up Wednesday and a St. Patricks Day Tutorial coming up Friday.
Don't forget to follow me on my social medias. I am really into IG stories and Twitter right now.
Instagram | Twitter | Facebook| Bloglovin|